Vastu dosh nivaaran Yantra
Laminated
Copper
Vastu Yantras
Laminated

Copper
Vastudosh yantra

Laminated

Copper

Silver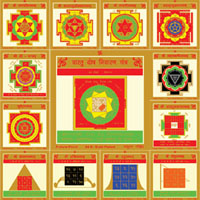 Laminated

Sampoorna Vastu Dosh Nivaran Yantra

There might certain problems that you might need to face due to the wrong Vastu of your house or working place. Then this yantra of Vastu dosh nivaraan can provide you complete solution to you, and will bring prosperity also. It will create positive vibes that will protect you from the negative effects prevailing on your home and office. One might suffer due to ill effects because of wrong location, direction, construction problems etc. It should be placed at the worshipping place or you can even bury it under the ground if you are constructing a new place of living or working. This yantra will make certain vibration in the Vastu of your house that it works correct and right
Sampoorna Vastu Dosh Nivaran Yantra
Description
:

Construction of houses, shops, commercial organizations, inns, temples, vehicles etc. must be according to Vastu. One should worship Vastu deity to remove the grim faults in Vastu of one's house, shop or commercial organization. For this the Vastu is the most effective spiritual product. If installed in the north, east or north east portion of the hours, shop or commercial organization, the Yantra ward off all the faults in Vastu of the same and bestows all eradication all types of negative energies.
The following yantras are included in this SAMPURNA VAASTU DOSH NIVARAN MAHAYANTRA :-
1. Vaastu Dosh Nivaran Yantra (centre)
2. Sri Baglamukhi Yantra
3. Sri Gayatri Yantra
4. Mahamrityunjay Yantra
5. Shree Yantra
6. Sri Kuber Yantra
7. Mangal Yantra
8. Shani Yantra
9. Rahu Yantra
10.Ketu Yantra
11.Mahakali Yantra
12.Sri Ganesh Yantra
13.Sri Vaastu Dosh Nashak Yantra
© Manish Wagh . All rights reserved worldwide. Copying in/on any type of media is not allowed in any condition.